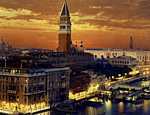 Il Campanile di San Marco
The Bell tower of St. Mark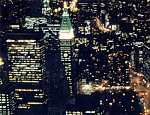 Metropolitan Life Tower



Rappresentazione grafica delle proporzioni reali dei due edifici che hanno ispirato l'opera del Maestro Giorgio Bortoli
Graphic representation of the real proportions of the two buildings that has inspired Teacher Giorgio Bortoli's work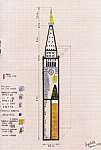 Il primo progetto della scultura "Venezia - New York" fatto direttamente a mano libera dal Maestro Giorgio Bortoli
The first project of the sculpture "Venice - New York" done by hand directly free from the Teacher Giorgio Bortoli
Storia, ispirazioni e simbolismi
Venezia, anno 1511, dogado di Leonardo Loredan, la terra trema. Case, palazzi e torri sembrano ballare una musica che la natura gli impone. Poi un boato e come un gigante "el papà dei campanili" si frantuma al suolo in tanti piccoli sassolini. E' da qui che comincia la storia di quest'opera. In questo momento si decise di ispirarsi al progetto di Giorgio Spavento e di costruire una torre ancora più alta della prima, che si allungasse il più possibile fino a toccare il cielo (98,60 m.). Da quell'altezza si sarebbe potuto dominare tutta la città, osservando la vita dei cittadini fino alle isole, le attività dei "foresti" nei loro "fonteghi" e tra le calli, le navi che entravano dal mare.
Con la sua altezza e maestosità si sarebbe dimostrata la potenza della grande città, porto di mare che raccoglieva al suo interno tutte le razze e che per prima si organizzò per poter contenere, integrare e confrontarsi con altre culture, modificando a questo scopo la propria struttura urbanistica ed architettonica. Venezia inventò i ghetti (suddivisione in "fonteghi", unici luoghi nei quali i "foresti" potevano svolgere le proprie attività) e sviluppò l'arte bizantina.
Con lo scoccare dei suoi rintocchi il campanile di San Marco dominava la vita di tutti i cittadini e "foresti" e le cinque campane, ognuna con un nome ed una funzione diversa, imponevano le ore, le cene, la ritirata, i silenzi, le riunioni, le morti.
Con l'angelo d'oro massiccio, posto alla sommità del campanile, si sarebbe ricreata la figura del Doge che reggeva la vita morale, religiosa, politica, organizzativa ed economica della capitale del Mediterraneo e di chiunque avesse voluto passarvi. Si raccolsero tutte le tecniche del tempo per innalzare questo baluardo dalle fondamenta mobili ed instabili della città e si scelsero le pietre migliori provenienti dalle amiche terre istriane. Ma il disastro del terremoto sembra inevitabilmente accompagnare la storia di questo gigante che venne colpito, ancora una volta, dalla natura il 14 luglio 1902. La caduta del campanile suscitò un effetto terribile sugli amanti della città e si decise di ricostruirlo "dov'era e com'era". Hermann Hesse scrisse: "Mi sono recato in piazza pieno di aspettative. L'assenza del campanile fa un effetto terribile. La mia idea che la piazza avesse potuto acquistare in sobrietà era sbagliata".
I tempi sono cambiati: il Mediteranneo e Venezia hanno perso la loro importanza per cederla, dapprima all'altro mare di nome oceano, poi al cielo, nel quale navigano veloci galeoni volanti.
Ma ancora I'uomo cerca di costruire torri sempre più alte e sviluppa tecnologie per riuscire finalmente a toccare il cielo.
Proprio nel 1909, pochi anni dopo il crollo del campanile, a New York, nuova capitale del mondo economico, delle scienze, delle arti e del cinema, una compagnia di assicurazioni decise di dimostrare il suo primato costruendo la torre più alta del mondo, il Metropolitan Life Tower (213 metri, primato superato nel 1913 con la costruzione del Woolworth Building).
Questo grattacielo, nuova sede della compagnia di assicurazioni, venne costruito su immagine del campanile di San Marco di Venezia, non per ragioni ideologiche, bensì "come i campanili del vecchio continente" per distinguere il profilo del grattacielo nello skyline di Manhattan.
C'è un profilo sottile che unisce le città di Venezia e New York, che passa attraverso il mare e la storia: vecchio e nuovo mondo; capitali dell'arte, della scienza, dell'architettura; centri dell'eco-nomia e del commercio in tempi differenti.
L'archiscultura del maestro Giorgio Bortoli rappresenta la connessione storica che le due torri fanno assistere, l'una nell'altra, al momento del passaggio del testimone: la grandezza di un tempo passato che viene superata; la crescita smisurata di tutte le cose che porta dalla prima città multirazziale dell'odierna metropoli multiculturale; il progresso delle tecniche e dei materiali che passa da un'economia che vede il primato del vetro di Murano ad un'altra nella quale I'acciaio prende il sopravvento.
Entrambe le torri rappresentano il potere: la prima dalla quale era possibile osservare la vita dei cittadini e scandire, con i rintocchi delle campane, un potere legittimato dalla tradizione, dalla religione e dalle leggi economico-politiche; la seconda dalla quale la sensazione di sudditanza del potere economico arriva in maniera più indiretta ma altrettanto vincolante.
Vi è infine Marghera, la Città in trasformazione, che cambia e si riqualifica, che sperimenta nuovi percorsi istituzionali con la Municipalità.
Marghera, un territorio giovane e anch'esso punto d'incontro di decine di migliaia di persone portatrici di culture diverse e messe assieme dal lavoro offerto da Porto Marghera.
Anche Marghera è una Città d'acqua e proprio questo elemento permetterà all'opera, una volta finita, di collegarsi a Venezia per I'inizio di un viaggio pensato per far conoscere le cose belle che Marghera è in grado di realizzare grazie alla sua generosa ospitalità e all'unione di quei materiali, il vetro e l'acciaio, che hanno segnato la storia di Venezia e di New York.
History, inspirations and symbolisms
Venice, year 1511, dogado of Leonardo Loredan, earth trembles. Houses, buildings and towers seem to dance a music that the nature imposes him. Then a boato and as a giant "el dad of the bell tower" it shatters him to the ground in so many small pebbles. And' from here that the history of this work starts. In this moment it was decided to inspire him to the project of George Spavento and to build before even more a tall tower of the, that lengthened the more possible up to touch the sky (98,60 ms.). From that height you/he/she would be been able to dominate the whole city, observing the life of the citizens up to the islands, the activities of the "foresti" in theirs "fonteghi" and among the calluses, the ships that entered from the sea.

With his/her height and majesty the power of the great city would be shown, I bring of sea that picked up to its inside all the races and that for first it organized him to be able to contain, to integrate and to compare him with other cultures, modifying to this purpose his/her own structure urbanism and architectural. Venice invented the ghettos (subdivision in "fonteghi", only places in which the "foresti" you/they could develop his/her own activities) and it developed the Byzantine art.
With to strike of his the bell tower of St. Mark you toll it dominated the life of all the citizens and "foresti" and the five bells, each with a name and a different function, imposed the hours, the suppers, the retreat, the silences, the reunions, the deaths.
With the angel of thick gold, sets to the summit of the bell tower, the figure of the Doge would be recreated that held up the moral life, religious, politics, organizational and economic some capital of the Mediterranean and whoever had wanted to pass you. They picked up all the techniques of the time to raise this rampart from the mobile and unstable foundations of the city and they was chosen the best stones coming from the friends earths istriane. But the disaster of the earthquake inevitably seems to accompany the history of this giant that was struck, once more, from the nature July 14 th 1902. The fall of the bell tower aroused a terrible effect on the lovers of the city and been decided to reconstruct him/it "where it was and as it was." Hermann Hesse wrote: "I have approached in plaza full of expectations. The absence of the bell tower ago a terrible effect. My idea that the plaza had been able to purchase in sobriety it was wrong."
The times are changed: the Mediteranneo and Venice have lost their importance to surrender her/it, at first to the other sea of name ocean, then to the sky, in which you/they sail fast flying galleons.

But he/she anchors I'uomo it tries to build more and more tall towers and it develops technologies to finally succeed in touching the sky.
Just in 1909, few years after the collapse of the bell tower, to New York, new capital of the economic world, of the sciences, of the arts and of the cinema, an insurance company decided to show its record building the tallest tower of the world, the Metropolitan Life Tower (213 meters, old record in 1913 with the construction of the Woolworth Building).
This skyscraper, new center of the insurance company, was built on image of the bell tower of St. Mark of Venice, not for ideological reasons, on the contrary "as the bell tower of the old continent" to distinguish the profile of the skyscraper in the skyline in Manhattan.
There is a thin profile that unites the cities of Venice and New York, that it passes through the sea and the history: old and new world; capitals of the art, of the science, of the architecture; centers of the echo-nomia and of the commerce in different times.
Teacher Giorgio Bortoli's archiscultura represents the historical connection that the two towers make to assist, the one in the other, during the passage of the witness: the greatness of once passed that you/he/she is overcome; the immoderate growth of all the things that brings from the first multiracial city of the today's metropolis multiculturale; the progress of the techniques and the materials that passes from an economy that he/she sees the record of the glass of they Wall up to another in which I'acciaio takes the upper hand.
Both the towers represent the power: the first one from which it was possible to observe the life of the citizens and to articulate, with the you toll some bells, a to be able legitimated by the tradition, from the religion and from the laws economic-politics; the second from which the feeling of subjection of the economic power arrives in more indirect way but as many binding.
There is finally Marghera, the City in transformation, that changes and it is retrained, that experiments new institutional runs with the Municipality.
Marghera, a young territory and also it I aim of meeting of about ten thousand of people bearers of different cultures and put together by the job offered by Porto Marghera.
Also Marghera is a City of water and really this element will allow the work, once ended, to connect himself/herself/themselves to Venice for I'inizio of a trip thought for making to know the beautiful things that Marghera is able to realize thanks to his/her generous hospitality and the union of that material, the glass and the steel, that the history in Venice and New York has marked.